Schedule Of Condition Party Wall
Essex Party Wall Schedule Of Condition Party Wall Inspection & Report From Just £425.00 Inc.
100% Guaranteed Fixed Price Service
Price Includes Inspection of One Adjoining Owners Property And Preparing and Issuing a full Schedule of Condition Report.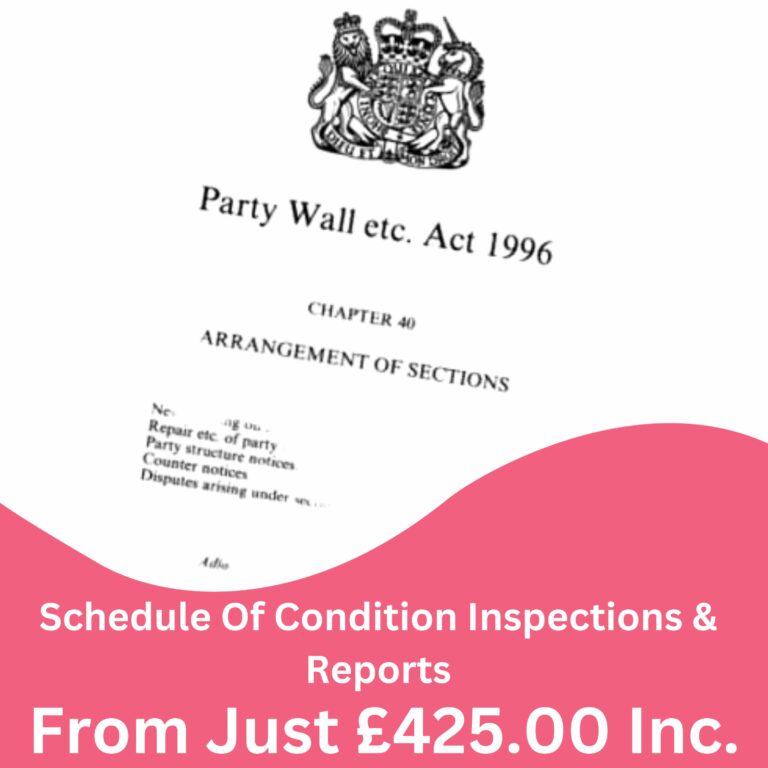 The Path to Agreement: Navigating the Party Wall Award Process
At Surv Essex, we specialize in conducting meticulous Schedule of Condition inspections, an integral part of the party wall process. Our expertly prepared reports provide a detailed account of the condition of adjoining owners' properties before any construction work begins, ensuring all parties are protected and peace of mind is preserved.
Benefits of a Schedule of Condition Report:
Clarity: The report provides clear and indisputable evidence of the property's condition before work begins.
Protection: It protects both the property owner undertaking the work and the adjoining owner against unfair damage claims.
Peace of Mind: Both parties can feel secure knowing that there is an accurate record of the property's pre-construction state.
Our Approach to Schedule of Conditions:
At Surv Essex, we approach each Schedule of Condition inspection with a keen eye for detail. Our experienced surveyors meticulously document the existing state of adjoining properties using high-resolution photography and descriptive reporting. We understand that precision is key, and therefore, we ensure that our reports capture every aspect of the property's condition.
What is a Schedule of Condition?
A Schedule of Condition is a comprehensive record of the state of a property at a specific point in time. This report is crucial when construction or renovation is planned near or on shared property boundaries. It serves as an essential benchmark that can be referred back to should any claims of damage arise as a result of the works.
Why Choose Surv Essex for Your Inspection?
Local Expertise: Our knowledge of Essex's property landscape is unmatched, providing a local edge to our detailed reports.
Professional Experience: Our team of qualified surveyors brings years of experience in property inspection and reporting.
Personalized Service: We understand that every property is unique and provide a tailored service to meet individual needs.